The premium semi-automatic parking system with a pit that can be driven through
The TrendVario 6100+ can handle extremely low room heights and be combined with other TrendVario models.
The TrendVario 6100+ can be driven through, which means it can be easily combined with the TrendVario 6100, 6200+ and 6300, as well as the 6100+ and the 6300+ (which can also be driven through), as an additional row of parking. As no second access lane is required, this sort of combined parking system enables you to have even more parking spaces within the same floor area.
The TrendVario 6100+ is accessed at ground level. The system can accommodate two vehicles one above the other, one of which is lowered into the pit. It requires less room height as a result. The parking spaces are moved vertically and horizontally and transported to the desired position.

For maximum operating safety, the access level is secured from the entire system by gates. This also protects the vehicles from theft and vandalism.
You can also enhance your TrendVario 6100+ with our premium accessoires.
Find your individual solution
Product Finder
We are here for you
Search for a sales representative near you
Schedule an appointment with our technical support
Online Support
For independent parking
Can be combined with the TrendVario 6100, 6100+, 6300, 6300+ and 6200+
4 rows behind each other and 15 grids next to each other – up to 29 parking spaces are possible
Building height: 220 cm to 265 cm in 5 cm increments
Pit depth: 190 cm to 240 cm in 5 cm increments
Vehicle dimensions: height 150 cm to 200 cm, length 500 cm to 530 cm
Usable platform width: 230 cm to 270 cm
Platform load: 2,000 kg per parking space, optionally 2,600 kg or max. 3,000 kg
Horizontal access to all parking levels
Platform coating: StandardGrip, optional AluLongLife or EasyWalk
Operation via SmartChip, SmartPortable or SmartApp
* Assignment according to product data sheet
In residential and commercial buildings in large cities
For additional parking spaces in office buildings or residential and commercial buildings
To increase capacity in underground car parks or parking garages, e.g. of hotels
More parking spaces for car dealerships, car rental companies or vintage car collections
Ideal in the case of constructions abutting property lines
Standard gates: sliding gates, electrical
Remote control as an option
Gate frame made from extruded aluminium profiles with a vertical centre stay bar
Standard gating material: perforated aluminium plate
Optional for sliding gates:

Around 50 individual variations are possible in different materials and colours
Glass (laminated safety glass), wood (Nordic spruce), aluminium, steel and many other options available.
Interchangable panels and segments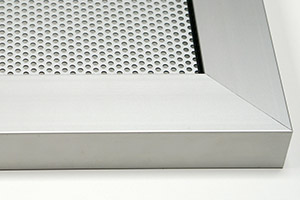 Perforated aluminium plate
Type:
Thickness 2 mm, RV 5/8 E6/EV1, anodized, layer thickness approx. 20 μm
Ventilation cross-section of the panelling approx. 40%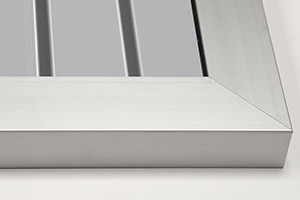 Beaded steel plate
Type:
Thickness 1 mm, hot-dip, layer thickness approx. 20 μm
Additional powder coating
Layer thickness approx. 25 μm on the outside and approx. 12 μm on the inside
Many RAL colours available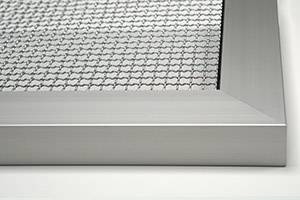 Steel wire grating
Type:
Mesh size 12×12 mm
Thickness 2 mm, galvanized, layer thickness approx. 20 μm
Ventilation cross-section of the panelling approx. 70%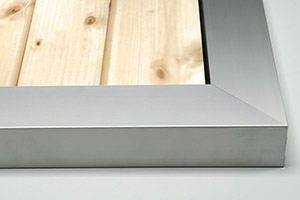 Wooden panelling, Nordic spruce
Type
Nordic spruce, grade A
Vertical tongue and groove boards
Preimpregnated (colourless)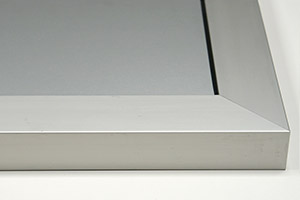 Plain aluminium sheet
Type:
Thickness 2 mm, E6/EV1, anodized, layer thickness approx. 20 μm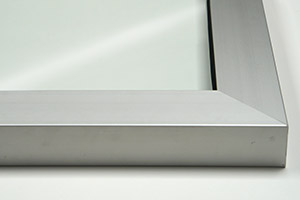 Laminated safety glass
Type:
LSG consisting of ESG 8/4 mm
Further visualizations of the TrendVario 6100+

All TrendVario +variants can be flexibly combined behind each other up to four rows deep. The "+" stands for the variant that can be driven on.
Therefore, no + variant is required in the last row.